Browsing articles from "July, 2013"
Prime Minister Kevin Rudd receives Ambassador Al Saleh
Canberra, Jul 13, 2013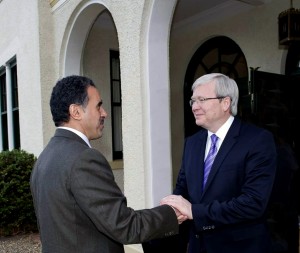 The Prime Minister of Australia Kevin Rudd received the Ambassador of the Custodian of the Two Holy Mosques to Australia Nabil bin Mohammed Al Saleh at the Lodge in Canberra, Australia. During the meeting, they exchanged cordial talks and discussed boosting the growing relations between the two countries. The Ambassador also passed on the well wishes and greetings from the Custodian of the Two Holy Mosques King Abdullah bin AbdulAziz, the Crown Prince, the First Deputy Prime Minister and Minister of Defence Salman Bin AbdulAziz, the Second Deputy Prince Muqrin bin Abdulaziz and the Minister of Foreign Affairs Prince Saud Al Faisal to the Prime Minister Kevin Rudd and the people of Australia.
On his part, the Australian Prime Minister Kevin Rudd passed on his thanks and well wishes to the Custodian of the Two Holy Mosques and the Saudi people. Mr Rudd also expressed his gratitude towards the growing bilateral relations between Saudi Arabia and Australia.
رئيس مجلس الوزراء الأسترالي يستقبل السفير آل صالح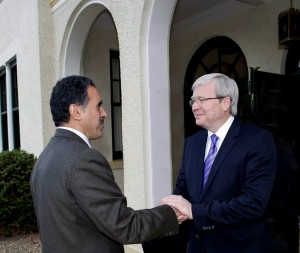 كانبيرا 13-7-2013
إستقبل رئيس مجلس الوزراء الأسترالي "كيفين راد" يوم امس سفير خادم الحرمين الشريفين لدى استراليا الأستاذ نبيل بن محمد آل صالح في مقر اقامة رئيس الوزراء في "اللودج" بالعاصمة كانبيرا.
ونقل السفير آل صالح خلال الاستقبال لرئيس الحكومة الاسترالي تحيات خادم الحرمين الشريفين الملك عبد الله بن عبدالعزيز آل سعود وسمو ولي عهده الأمين وسمو النائب الثاني وسمو معالي وزير الخارجية الامير سعود الفيصل – حفظهم الله – وتمنياتهم له شخصيا بالصحة والسعادة وللشعب الأسترالي الصديق بمزيد من التقدم والازدهار.
كما حمل رئيس الوزراء الأسترالي السفير آل صالح نقل شكره وتحياته وتمنياته لخادم الحرمين الشريفين والأسرة المالكة وللشعب السعودي معرباً عن ارتياحه لتنامي العلاقات الثنائية بين البلدين الصديقين.