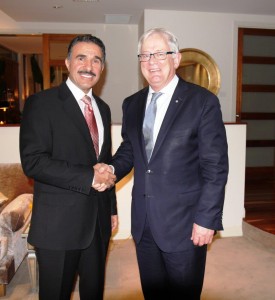 October 01, 2014, Canberra SPA
Saudi Ambassador to Australia Nabil bin Mohammed Al Saleh met in Canberra with Australian Minister of Trade and Investment Andrew Robb.
During the meeting, they reviewed bilateral relations between the two countries, especially in the fields of trade and investment.
It is noteworthy that the volume of trade exchange between the two countries during the year 2013 amounted to 2.459 billion Australian dollars, including 2.190 billion dollars worth of Australian exports to the Kingdom and 269 million dollars worth of Saudi exports to Australia.