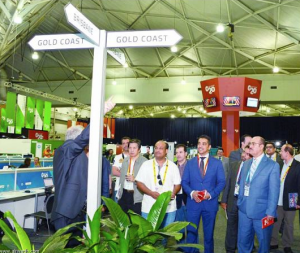 The Saudi media delegation participating in coverage of the activities of the G20 summit which will be held on 15 and 16 November toured the international media center of the summit in the city of Brisbane.
The delegation included the President of Saudi Press Agency (SPA) Abdullah bin Fahd Al-Hussein, various newspaper editors, writers, radio and television producers and also a delegation from the Saudi Press Agency. The media delegation is participating in the coverage of the summit.
On the sidelines of the summit, the Ministry of Culture and Information has a special pavilion within the centre providing materials on the Kingdom's progress and relations with Australia.