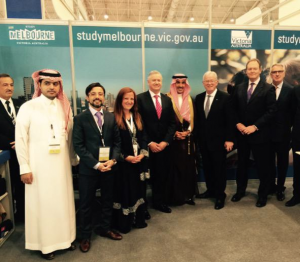 The Ambassador of the Custodian of the Two Holy Mosques in Australia, H.E Nabil Bin Mohammad Al Saleh has emphasised the importance of the recent visit of the Trade and Investment Minister Andrew Robb and various other senior Australian businessmen to the Kingdom of Saudi Arabia and the Gulf Countries.
The Ambassador has stated that this was an excellent opportunity for Australia to build and strengthen extensive trade relations with key partners in Saudi Arabia and across the Arab world. He also stated that this visit reflected the current strong trade ties between Australia and the Arab world.
During their two day visit to Saudi Arabia the Trade Minister and his delegation met with a large number of senior officials in the Kingdom, including the Minister of Commerce, Dr. Tawfiq Al Rabia, the Minister of Economy and Planning, Dr Mohammed Bin Suleiman Al Jasser, the Minister of Agriculture Abdul Rahman Bin Abdul Mohsen Al Fadhli, the Governor of Saudi Arabia General Investment Authority (SAGIA), Abdullatif Bin Ahmed Al Othman, GCC Secretary, Abdul Latif Bin Rashid Al Zayani, Deputy Minister of Finance, Dr Hamad Bin Sulaiman Bazei and also the Vice Chairman of the Chamber of Commerce, Mr Saleh Bin Hassan Afaleq.
On his part, the Australian Minister of Trade, Andrew Robb, stated that his trip was an important opportunity to extend their trade relations with Saudi Arabia. Minister Robb also emphasised the importance of resuming free trade negotiations with the Gulf Cooperation Council States.
Minister Robb also attended a meeting with the Saudi Business Council of Australia held in the Saudi Chambers in Riyadh Council. This meeting was headed by Abdul Latif Bin Misfer Al Zahrani on the Saudi side and Tom Harley on the Australian side. H.E Ambassador Nabil Al Saleh was also in attendance, along with Ambassador of Australia to the Kingdom Ralph King. During this meeting the two sides discussed bilateral relations between the two countries, particularly in regards to the fields of economy and investment and ways of enhancing them on both sides.