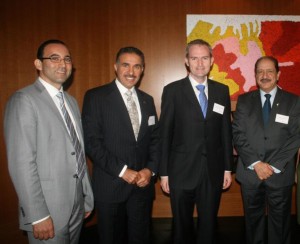 A Luncheon was hosted at the Four Seasons Sydney for the Ambassador of Saudi Arabia for Australia and New Zealand, H E Nabil Al-Saleh and the  Saudi Member of the Shura  Council, Usamah Al-Kurdi, by the AACCI NSW Chair, Mohamed Hage. He briefly spoke at the event, which spoke about high level engagement opportunities between the two countries. The event was also  attended by the Member of Banks, The Hon David Coleman MP and 24AACCl's handpicked guest, to ensure a  conversation that was candid and informed.
The Hon Mr Al-Kurdi is the President of Alagat, a business-consulting firm based in Riyadh and a member of Saudi Arabia's Consultative Council (Majlis Al-Shura). He serves as a Board Member of Saudi Arabian Airlines and an Executive Committee member of the National US-Arab Chamber of Commerce. As part of the Shura Council, he is a Member of the Economic and Energy Affairs Committee and the Chairman of the Saudi-American Friendship Committee.
From 1990-2001, Mr Al-Kurdi served as Secretary General of the Council of Saudi Chambers of  Commerce, as well as Vice President of Saudi Consulting House, a forerunner of the Saudi Arabian General Investment Authority (SAGIA).
As Saudi Arabia becomes increasingly influential and accessible, the opportunities for Australian companies to enter the  market are opening up.  Saudi Arabia continues to cement itself as a global and diversified market.