Browsing articles in "SA News"
Prince Mohammed bin Salman bin Abdulaziz, Deputy Crown Prince, Second Deputy Premier and Minister of Defense confirmed that the announcement of the formation of an Islamic military alliance to fight terrorism emanates from the Islamic world's keenness to fight this disease and be a partner of the world, as a group of countries, in the fight against this disease.
He said in a press conference at King Salman Air Base in Riyadh yesterday evening following the announcement of the joint statement on the formation of an Islamic military alliance to fight terrorism based in Riyadh, 'The alliance includes a group of Islamic states that make up the majority of the Islamic world, and this emanates from the keenness of the Muslim world to fight this disease which affected the Islamic world first, before the international community as a whole. '
The Deputy Crown Prince pointed out that an operations room of the alliance will be established in Riyadh to coordinate and support efforts to fight terrorism in all countries and parts of the Islamic world, noting that each country will contribute according to its capabilities.
He added, 'Today, every Islamic country is fighting terrorism individually. The coordination of efforts is very important; and through this room, means and efforts will be developed for fighting terrorism all over the Islamic world.
On the support of more than ten Islamic countries to this alliance, he said: 'These countries are not outside of the alliance, these countries have measures to be taken before joining the alliance. In light of the keenness to accomplish this alliance as soon as possible, the announcement of the 34 countries was made and, God willing, the rest of the countries will join this Islamic alliance.'
The Deputy Crown Prince added: 'We have a number of countries suffering from terrorism, including Syria, Iraq, Sinai, Yemen, Libya, Mali, Nigeria, Pakistan, and Afghanistan, and this requires very strong efforts to fight it. Undoubtedly through this alliance, there will be a coordination to fight it through these efforts.'
He went on saying, 'We will confine terrorist organizations whatever might be their classification. Of course, in connection with operations in Syria and Iraq, we cannot carry out these operations but only through coordination with the legitimacy in both of them and the international community.'
He also asserted that the Islamic military alliance will coordinate with globally important countries and international organizations in this action, pointing out that the alliance will fight terrorism at military, intellectual and media levels, in addition to the remarkable security effort currently existing.
Asked whether the new alliance will confront ISIS terrorist organization only, the Deputy Crown Prince said: 'No, but against any terrorist organization emerges before us. We will work and take
Saudi Foreign Minister Adel al-Jubeir, speaking at a news conference in Paris, said that "in terms of the operation of this coalition . . . nothing is off the table. It depends on the requests that come, depends on the need, and it depends on the willingness of countries to provide the support that is necessary."
In addition to a military component, he said it would include "stopping the flow of funds" to terrorists and "confronting the ideology of extremism that promotes killing of the innocent, which is contrary to every religion, particularly the Islamic faith."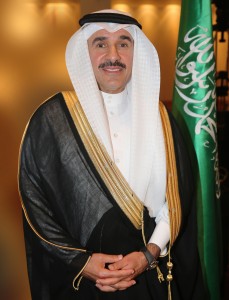 Speech by Ambassador of Saudi Arabia to Australia and New Zealand, H.E Nabil Al Saleh delivered in Hyatt House, Canberra, Australia 29 Sept 2015.
Excellencies, Distinguished Guests, Ladies and Gentlemen, my fellow Saudis.
I would like to take this opportunity to extend my sincere condolences to all the families of those who lost their lives in Makkah, and express my sympathies to those injured, wishing them a quick recovery. Our thoughts and prayers are with them.
Ladies and Gentlemen,
It gives me great pleasure to welcome you as we mark this year the 85th National Day of Saudi Arabia. It is days such as these that provide us the opportunity to celebrate our heritage, cohesion and accomplishments.
But it also provides an opportunity to reflect on the challenges we face in building more peaceful and prosperous lives for our citizens, and, that of the global community as a whole.
Today, in 2015, a few things have become clear. Despite the challenges facing the global community, the Kingdom's domestic, regional and international policies have remained consistent.
First. Although oil prices have dropped, the Kingdom's financial position remains very strong. The government continues to commit to record spending that is focused on economic development.
Second. We remain committed to regional stability. That is our aim and objective. Maintaining this is not just in our own interest, but that of the international community.
It is through this spectrum that we have, along with a coalition of countries, been compelled to intervene in military operations in Yemen at the request of its legitimate government.
Our soldiers have put their lives on the line. Some of our service-men have paid the ultimate sacrifice to defend and reinstate the legitimate government, protect the people of Yemen from radical organisations, and open up the way for political talks.
Our efforts have not stopped there. We have contributed over 4 billion Australian dollars in recent times towards the assistance for the Yemeni people, and we will continue to do so.
These contributions make Saudi Arabia the world's largest provider of humanitarian aid and economic assistance to Yemen. We have also rectified the legal status of around half a million Yemeni nationals who have entered the Kingdom in recent months. Taking the total number of Yemenis in Saudi Arabia to around 1.5 million.
Regarding Syria, the Kingdom has long supported the plight of the Syrian people. We continue to support the moderate Syrian opposition, and stress the importance of reaching a peaceful solution.
Recent media reporting and accusations surrounding the Kingdom's humanitarian efforts regarding refugees from Syria are plainly wrong. Arising from Bashar Al-Assad's brutal treatment of his own people, the Kingdom has received over 2.5 million Syrians since the beginning of the Syrian conflict.
We do not treat them as refugees. We have granted our Syrian brothers and sisters legal residency status and are treated as our own citizens. Furthermore, we have also provided them with free medical care and access to schools and universities.
Moreover, the Kingdom has provided almost a billion Australian dollars in aid to Syrians in refugee camps. And testament to our humanitarian efforts on the global stage, the United Nations placed Saudi Arabia as the sixth largest donor of foreign aid last year. In the past 4 decades, we have provided over $160 billion Australian dollars in aid to more than 90 countries.
Thirdly. The Saudi Government supports global efforts to combat terrorism as well as the United Nations global counter-terrorism strategy. Because there is no greater responsibility than to keep our citizens safe.
Whilst the Kingdom has this year been the victim of terrorist attacks, our government and people are determined to prevent further threats of terrorism, that seek to embed fear and instability. There is no place for such perverted views and actions.
In fact, the Kingdom was one of the first countries that introduced laws to deal with the existing threat. We legislated laws punishing all those that had participated or are participating in hostilities outside the kingdom. We are of the firm belief of the importance of regional and international cooperation to combat this escalating threat. That is why we have also been working diligently with our regional and international partners. Furthermore, we have provided a large part of the financial resources required to establish the United Nations Counter-Terrorism Centre. And our efforts in anti-money laundering has not gone unnoticed. We are ranked first in the MENA region and we are amongst the top 10 globally in anti-money laundering and in combating the financing of terrorism.
Ladies and Gentlemen, Turning now to more local issues, I am pleased that our bilateral relationship with Australia continues to develop. I am happy to inform you that we have just opened a new Defence Attaché Office in Canberra.
And I am happy to have with us here tonight, our Defence Attaché, Captain Sami Almutairi. Furthermore, I am also pleased to announce that we will soon be opening a General Consulate in Sydney.
In concluding my remarks, I should emphasise to you the importance the Kingdom places on Education. Because we firmly believe that, our national economic prosperity is ultimately linked to an educated society. A society that is innovative and research driven. We have about a quarter of a million of our nationals with their families studying abroad. 13 thousand of these are in Australia. Here with us tonight are some of our students who have made significant breakthroughs in their fields. I hope you will take the opportunity to meet our eight nationals.
Thank you.
كانبيرا 30-9-2015
سفارة المملكة لدى أستراليا تقيم حفل استقبال بمناسبة اليوم الوطني
أقام  سعادة سفير خادم الحرمين الشريفين لدى استراليا ونيوزيلاندا نبيل بن محمد آل  صالح ، حفل استقبال بمناسبة اليوم الوطني الـ85 للمملكة، في قاعة الاحتفالات الكبرى في فندق الحياة في العاصمة الاسترالية كانبيرا حضره حشد من كبار الشخصيات السياسية والبرلمانية  والمسؤولين الاستراليين في وزارة الخارجية  الاسترالية والوزارات الأخرى والسفراء المعتمدين لدى استراليا وجمع من السعوديين المقيمين في استراليا ورؤساء وممثلي الجمعيات والمراكز الاسلامية والعربية باستراليا .
الذين كان في استقبالهم السفير آل صالح ، نائب السفير مشعل الروقي ، ، الملحق الثقافي الدكتور عبدالعزيز بن عبدالله بن طالب ، الملحق العسكري العقيد سامي المطيري.
بدأ الحفل الذي افتتحه سفير خادم الحرمين الشريفين لدى استراليا نبيل بن محمد آل صالح ورئيس البروتوكول في الدولة الاسترالية  كريس كانان،  بإنشاد السلام الملكي السعودي والنشيد الرسمي الأسترالي وتبادل خلاله الطرفان التهاني والتمنيات لكلا البلدين الصديقين.
ورفع سفير المملكة في أستراليا في كلمته خلال الحفل باسمه واسم أعضاء السفارة والملحقية والطلبة المبتعثين التهنئة الى خادم الحرمين الشريفين الملك سلمان بن عبد العزيز ال سعود وسمو ولي عهده وسمو ولي ولي العهد – حفظهم الله – والأسرة المالكة الكريمة وشعب المملكة بهذه المناسبة.
ثم تقدم بالعزاء بوفاة عدد من حجاج بيت الله الحرام جراء التدافع وحادثة الرافعة في مكة المكرمة ، سائلاً الله عز وجل أن يتغمد المتوفين بواسع رحمته ويسكنهم فسيح جناته، وأن يمن على المصابين بالشفاء العاجل.
واستعرض السفير آل صالح في كلمته محطات النهضة الشاملة التي تعيشها المملكة ، وموقعها  الاقتصادي والقيادي القوي بين دول العالم ومساهمتها في الاستقرار العالمي ومكافحة الارهاب ، موضحا دور المملكة الإنساني واسهاماتها ومساعداتها للعمل الإغاثي والانساني الدولي ، حيث تعتبر المملكة سادس دولة مانحة للمساعدات في العالم مشيرا الى تقديم المملكة ما يزيد عن 160 بليون دولار كمساعدات انسانية لاكثر من 90 دولة حول العالم .
وبين السفير آل صالح تقديم المملكة لما يزيد عن 4 بليون دولار لمساعدة الشعب اليمني حيث يتواجد على ارض المملكة اكثر من نصف مليون مواطن يمني انتقلوا للعيش في المملكة ابان الاحداث الاخيرة ، اما على مستوى القضية السورية فاكد السفير آل صالح مساندة المملكة القوية للشعب السوري واستقبالها لاكثر من مليونين ونصف سوري فروا  من بطش نظام الاسد ،  وهم  يعيشون الان على ارض المملكة كضيوف مع اعطائهم حق التعليم والطبابة ، اضافة الى تقديم ما يزيد عن بليون دولار كمساعدات لمخيمات  اللاجئين السوريين .
وتناول السفير آل صالح في كلمته محطات النهضة التنموية الشاملة التي تعيشها المملكة في مجالات مختلفة، مبينا الاهمية التي توليها المملكة للتعليم باعتباره احد  اهم ركائز االنهضة التنموية فيها ، مشيرا الى وجود اكثر من ربع مليون طالب سعودي يتلقون تعليمهم في ارقى جامعات العالم من بينهم 13 الف طالب سعودي مع مرافقيهم باستراليا .
كما اعلن السفير آل صالح خلال الحفل عن افتتاح الملحقية العسكرية السعودية باستراليا وتعيين العقيد سامي المطيري ملحقا عسكريا للمملكة باستراليا .
واطلع السفير ال صالح على المعارض الجانبية التي أقيمت بهذه المناسبة ومنها معرض التراث والثقافة السعودية ، ومعرض  الابتكارات والابداعات العلمية للطلبة المبتعثين السعوديين باستراليا.
وخلال الحفل، كرم السفير آل صالح عددًا من الطلبة السعوديين المبتعثين المتميزين الذين قدموا أعمالاً علمية مميزة في دراساتهم وأبحاثهم خلال مسيرتهم العلمية في أستراليا وهم حسام مأمون زواوي ، خالد طلال ابو الشامات، ندى ابراهيم تونسي ، بتول محمد يوسف الباز ، هيا محمد الجدعاني، بدر علي الزهراني ، عثمان أحمد الغامدي ، فيصل حاكم الشمري ، كما جرى تكريم رؤساء الاندية الطلابية في جميع الولايات الاسترالية بتقديم دروع تذكارية لهم، معربًا عن سعادته بامتزاج تكريمهم بفرحة ذكرى اليوم الوطني ، كما جرى تكريم الفائز بمسابقة "معاً ضد التطرف" الأدبية" بدر سالم المحمدي الذي القى قصيدة معبرة بالمناسبة.
1/10/2015
Saudi Ambassador to Australia and New Zealand H.E Nabil Al Saleh held a reception for the Kingdom's 85 National Day in Canberra. It was attended by senior political, parliamentary and Australian Foreign Affairs figures and other ambassadors accredited to Australia as well as Saudis living in Australia, heads and representatives of associations and Arab and Islamic centers.
The guests were received by Ambassador Al Saleh, Deputy Ambassador Meshaal Alrougui, cultural attaché Dr. Abdul Aziz bin Abdullah bin Taleb and Military attaché Colonel Sami al-Mutairi.
Ambassador Al Saleh outlined in his speech the comprehensive development in the Kingdom, its economic situation and strong leadership internationally, its contribution to global stability and the fight against terrorism. He explained the Kingdom's humanitarian role and its contribution to international relief work; the kingdom is the sixth largest aid donor in the world with more than $160 billion in humanitarian aid to more than 90 countries.
Ambassador Al Saleh explained that the Kingdom donated more than $ 4 billion to the people of Yemen with more than half a million Yemenis moving to the Kingdom due to recent events. On Syria, Ambassador Al Saleh stressed the Kingdom's strong support for the Syrian people and noted that they had received Syrians fleeing the civil war and who are now living in the Kingdom, receiving education and medical care, in addition to more than a billion dollars in aid to Syrian refugees camps.
In his speech, Ambassador Al Saleh addressed the comprehensive development renaissance experienced by the Kingdom in different areas, indicating the importance of education as a main pillar of development; he pointed to the more than 250,000 Saudi students in overseas universities, including 13,000 in Australia.
He also announced the opening of the Saudi military attaché in Australia and the appointment of Colonel Sami al-Mutairi as military attaché.
Ambassador Al Saleh honoured outstanding Saudi students who have achieved distinctive scientific work in their studies and research as well as the heads of student clubs in all states by presenting commemorative shields to them.
The winner of the literary competition "together against extremism", Bader Salem Mohammadi-Harbi, was also honoured also and made an expressive poem.
On the eve of a historic state visit to Saudi Arabia, New Zealand's Prime Minister John Key has described his trip, the first by any New Zealand head of state, as "well and truly overdue."
Speaking exclusively to Al Arabiya News, Key – who is currently in Dubai and has inaugurated his country's new Consulate General – described Saudi Arabia as a "very important country."
Answering a question regarding the reasons behind New Zealand's absence from Saudi Arabia in the past, Key said that this was a result of a diplomatic legacy, though noted his previously scheduled trip in 2010 had to be cancelled due to a military plane crash.
"In a lot of ways maybe it's been that New Zealand had historically focused on more traditional markets and for a very long time, up until pre-1970s, virtually all New Zealand products were sold to the United Kingdom."
Recently, New Zealand has developed strong trade relations with neighbouring Asia, but the GCC now represents the country's fifth biggest trade market.
"I think the need for a visit probably wasn't as big a priority for previous prime ministers as it is for me. We historically wanted to come sometime earlier but it has just taken some time to re-arrange this visit after we had to cancel…so look it's well and truly overdue but it's going to be a wonderful opportunity."
One important item on Key's agenda was attempting to push through a Free Trade Agreement (FTA) with the Saudis.
"We are trying to complete the Gulf States-New Zealand Free Trade Agreement. We've really got to the point in 2009 where the deal was largely complete but required ratifications that have taken some time."
Key said other countries had been in a similar situation, such as Singapore which implemented an agreement last year.
"Our understanding is we're the next potential country to come out of the blocks and to have a deal completed, so we are hopeful we'll be able to make some progress on that front."
New Zealand-Saudi Arabia trade is worth about U.S. $1.2 billion annually, with two-thirds of that being New Zealand imports of chiefly hydrocarbons. Eighty per cent of Saudi Arabia's imports from New Zealand comprise the country's well-renowned meat and dairy products.
New Zealand exports to the GCC have grown about 10 per cent year-on-year over the past decade, underscoring the region's significance to the small Antipodean country of four million.
Among all GCC nations, the Saudi market is of particular significance to New Zealand.
"Saudi is a significant player here in the Gulf, clearly one of the richest of all the nations in the world but also the home of a lot of potentially significant consumers for New Zealand products. We already sell to the wider Gulf region more goods and services than to the United Kingdom, so that gives you a sense of how big the market already is and I think there is a lot more potential."
Key, who was re-elected in a landslide victory for a third term last year, also promised to spend an increasing amount of time in the region.
"It's my intention to try and built deeper markets around the Gulf States once the FTA is concluded and that means spending more time in the region… It is quite clear that we haven't spent enough time in the region and I expect to come back and spend more time here."
While the talks will seemingly largely be focused on trade, Key has earlier said he would also discuss "the complex security issues facing the Middle East."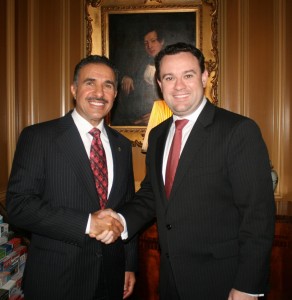 The Ambassador of Saudi Arabia to Australia and New Zealand His Excellency Nabil Al Saleh met with the Hon. Stuart Laurence Ayres, MP Minister for Trade, Tourism and Major Events, and Minister for Sport  in the state of New South Wales to discuss ways of enhancing economic trade relations between the two countries.
Minister Ayres noted the significant amount of investment opportunities offered by Saudi investors and Australian companies in their respective countries.
Minister Ayres also praised the overall economic renaissance witnessed by the Kingdom in the era of the Custodian of the Two Holy Mosques King Salman bin Abdulaziz Al Saud, "
The state of New South Wales and its capital, Sydney is one of the largest and most productive Australian states on economic growth and tourism levels. It currently holds approximately 20% of the entire population of Australia at about 4.8 million people.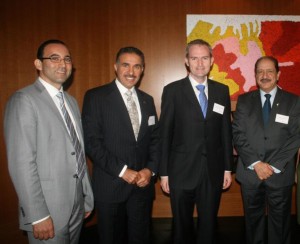 A Luncheon was hosted at the Four Seasons Sydney for the Ambassador of Saudi Arabia for Australia and New Zealand, H E Nabil Al-Saleh and the  Saudi Member of the Shura  Council, Usamah Al-Kurdi, by the AACCI NSW Chair, Mohamed Hage. He briefly spoke at the event, which spoke about high level engagement opportunities between the two countries. The event was also  attended by the Member of Banks, The Hon David Coleman MP and 24AACCl's handpicked guest, to ensure a  conversation that was candid and informed.
The Hon Mr Al-Kurdi is the President of Alagat, a business-consulting firm based in Riyadh and a member of Saudi Arabia's Consultative Council (Majlis Al-Shura). He serves as a Board Member of Saudi Arabian Airlines and an Executive Committee member of the National US-Arab Chamber of Commerce. As part of the Shura Council, he is a Member of the Economic and Energy Affairs Committee and the Chairman of the Saudi-American Friendship Committee.
From 1990-2001, Mr Al-Kurdi served as Secretary General of the Council of Saudi Chambers of  Commerce, as well as Vice President of Saudi Consulting House, a forerunner of the Saudi Arabian General Investment Authority (SAGIA).
As Saudi Arabia becomes increasingly influential and accessible, the opportunities for Australian companies to enter the  market are opening up.  Saudi Arabia continues to cement itself as a global and diversified market.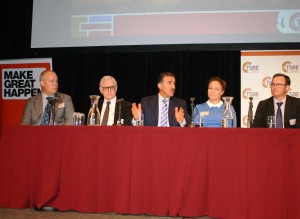 Saudi Ambassador to Australia Mr. Nabil Al Saleh opened the "Investment Opportunities in Saudi Arabia and the Middle East, Conference on Thursday June 4, 2015 held in Toowoomba, Queensland, Australia.
The event was organised by Australian Arab Chamber of Commerce and Industry in conjunction with  the Toowoomba "Sirat Bison" Business Group. The conference was attended by more than 150 people, including senior businessmen and investors in the oil and mining, agriculture, education, legal, technological and service fields in Australia.
In his speech the Ambassador thanked the organisers for hosting the event and enlightened the atendees as to the current development and expansion of Saudi Arabia and its resources.
"The Kingdom is now the 19th largest economy in the world, the single largest economy in the Middle East and North Africa region with a GDP worth 752 billion dollars and representing 25% of the entire MENA economic output.
"It is now recognised as the third fastest economy in the world with an annual average growth of 5 % over the past decade. Only preceded by China and India.
And in recognition of the Kingdom's growth and stability, Fitch Ratings agency upgraded Saudi Arabia to "AA" demonstrating the Kingdom's financial stability and high credit quality. Ranking Saudi Arabia 7th within the G20.
"Reflecting on this, it is apparent that over the course of the last eight decades, the Kingdom has modernised at a rapid pace and has succeeded in becoming one of the top-ranking economies in the world within a very short period."
The Ambassador also discussed with attendees the booming investment opportunities emerging in the Kingdom of Saudi Arabia.
"We have been blessed by natural resources with proven
¼ of the world's oil reserve and a current output of just over 10 million barrels per day.
"We have the 4th largest gas reserve in the world. As well as a richness in a wide array of minerals.
"Furthermore, we are committed to increasing our production capacity of Petrochemicals to reach 100 million metric tons per annum by 2015.
"This, in turn, would make the Kingdom the third largest global exporter of petrochemicals.
The Ambassador closed his speech by inviting investors to establish business projects in Saudi Arabia and enlightened them as to the mutual benefits such projects would achieve.
"For a very young country, its transformation has been astonishing. But all of you in this room are an important part of this. You create jobs. You take the risks to create the opportunities and better the future of yourselves and both of our countries.
"With this in mind, and the economic progress achieved in the Kingdom thus far.
"It is worth noting that the Kingdom continues to foster a progressive investment environment.
"Some worth noting elements of our laws include: That Foreign investors can have 100 % ownership of their projects
"We have a robust investment legal system; We have a low cost financing system;
"Foreign investors are eligible to apply for loans from the Saudi Industrial Development Fund. These are interest- free loans up to 50% of project capital or up to $160 million USD."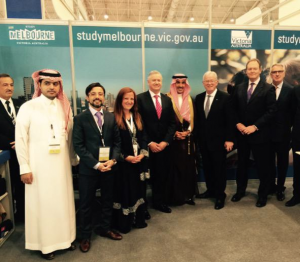 The Ambassador of the Custodian of the Two Holy Mosques in Australia, H.E Nabil Bin Mohammad Al Saleh has emphasised the importance of the recent visit of the Trade and Investment Minister Andrew Robb and various other senior Australian businessmen to the Kingdom of Saudi Arabia and the Gulf Countries.
The Ambassador has stated that this was an excellent opportunity for Australia to build and strengthen extensive trade relations with key partners in Saudi Arabia and across the Arab world. He also stated that this visit reflected the current strong trade ties between Australia and the Arab world.
During their two day visit to Saudi Arabia the Trade Minister and his delegation met with a large number of senior officials in the Kingdom, including the Minister of Commerce, Dr. Tawfiq Al Rabia, the Minister of Economy and Planning, Dr Mohammed Bin Suleiman Al Jasser, the Minister of Agriculture Abdul Rahman Bin Abdul Mohsen Al Fadhli, the Governor of Saudi Arabia General Investment Authority (SAGIA), Abdullatif Bin Ahmed Al Othman, GCC Secretary, Abdul Latif Bin Rashid Al Zayani, Deputy Minister of Finance, Dr Hamad Bin Sulaiman Bazei and also the Vice Chairman of the Chamber of Commerce, Mr Saleh Bin Hassan Afaleq.
On his part, the Australian Minister of Trade, Andrew Robb, stated that his trip was an important opportunity to extend their trade relations with Saudi Arabia. Minister Robb also emphasised the importance of resuming free trade negotiations with the Gulf Cooperation Council States.
Minister Robb also attended a meeting with the Saudi Business Council of Australia held in the Saudi Chambers in Riyadh Council. This meeting was headed by Abdul Latif Bin Misfer Al Zahrani on the Saudi side and Tom Harley on the Australian side. H.E Ambassador Nabil Al Saleh was also in attendance, along with Ambassador of Australia to the Kingdom Ralph King. During this meeting the two sides discussed bilateral relations between the two countries, particularly in regards to the fields of economy and investment and ways of enhancing them on both sides.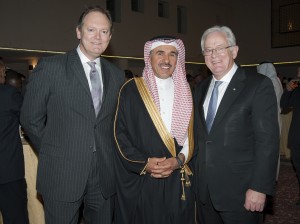 Trade and Investment Minister Andrew Robb has visited the United Arab Emirates and the Kingdom of Saudi Arabia to promote commercial opportunities for Australia business in two of the region's leading markets. The trip took place over three days.
During the trip. Mr Robb participated in Austrade's annual regional promotion Australia Unlimited Gulf, which showcased Australian capabilities in education, agriculture and food, resource and water management, urban development, rail, sports and tourism.
"There is a strong fit between demand in the Gulf and Australia's strengths. Both the UAE and Saudi Arabia are investing in infrastructure and restructuring their economies; creating opportunities in sectors where Australia has a proven track record," Mr Robb said.
Mr Robb also met with senior Ministers in the UAE and Saudi Arabia to advocate for a resumption of negotiations for a free trade agreement with the Gulf Cooperation Council.
Prior to his trip, Minister Robb stated that "I will use my visit to set out the Australian Government's trade and investment agenda. To emphasis that Australia is open for business and that we are committed to deepening our economic engagement with region," Mr Robb said.
Mr Robb also met with some of the region's most important investment funds. The UAE and Saudi Arabia have large sovereign wealth funds with total assets of US$1.7 trillion and are looking to make new international investments into food security, agriculture and infrastructure projects.
In Riyadh, Mr Robb also meet with the more than 20 Australian Universities and education providers attending the International Exhibition and Conference on Higher Education and promote Australia as an education destination.
"Gulf countries face challenges in providing education and skills development for their growing and youthful populations. Australia offers world-class opportunities for international education, as well as education and training services delivered in-market," Mr Robb said.
Mr Robb noted the growth in aviation links between Australia and the Gulf–with more than 140 flights a week – will deepen business links and facilitate growth in the number of tourists from the region.
Mr Robb also opened the Council for Australian Arab Relations' 'Food Water Energy Nexus' policy seminars in both Abu Dhabi and Riyadh, which brought together various experts to discuss issues which are both challenges to Australia and the region.