Browsing articles from "June, 2013"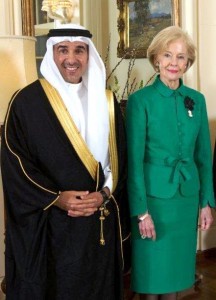 سفير المملكة لدى أستراليا يقدم أوراق اعتماده إلى الحاكم العام
كانبيرا 19 شعبان 1434هـ الموافق 28 يونيو 2013م واس
قدم السفير نبيل بن محمد آل صالح أوراق اعتماده سفيرًا لخادم الحرمين الشريفين لدى أستراليا إلى فخامة السيدة كوينتن برايس الحاكم العام لأستراليا وذلك خلال استقبالها له في المقر الرسمي للحاكم العام في العاصمة الاسترالية كانبيرا.
ونقل السفيرآل صالح خلال المقابلة تحيات وتقدير خادم الحرمين الشريفين الملك عبدالله بن عبدالعزيز آل سعود وصاحب السمو الملكي الأمير سلمان بن عبدالعزيز آل سعود ولي العهد نائب رئيس مجلس الوزراء وزير الدفاع – حفظهما الله – لفخامة كوينتين برايس ولقيادة وحكومة شعب أستراليا الصديق.
وأكد السفير آل صالح حرص المملكة العربية السعودية على تعزيزعلاقات الصداقة والتعاون مع أستراليا.
من جهتها عبّرت فخامة كوينتن برايس عن ترحيبها وتمنياتها الخالصة للسفير آل صالح بالتوفيق والنجاح في مهامه.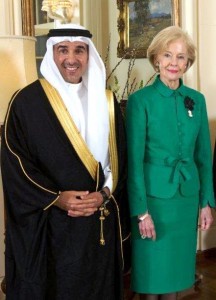 Saudi Ambassador Presents Credentials to Governor-General of Australia
Canberra – 28 June 2013
Newly-appointed ambassador Nabeel bin Mohammed Al Saleh presented his credentials as Saudi ambassador-designate to Australia to the Governor-General of Australia Her Excellency the Honourable Quentin Bryce during a reception at the headquarters of the Governor-General in the Australian capital of Canberra.
During the meeting, the ambassador conveyed the greetings of the Custodian of the Two Holy Mosques King Abdullah bin Abdulaziz Al Saud and Crown Prince Salman bin Abdulaziz Al Saud, the Deputy Premier and Minister of Defense, to the Governor-General of Australia, the leadership and government of the people of the friendly country of Australia.
The ambassador confirmed the keenness of the Kingdom of Saudi Arabia to enhance friendly relations with Australia.
For its part, the Governor-General expressed welcome of the ambassador, wishing him every success.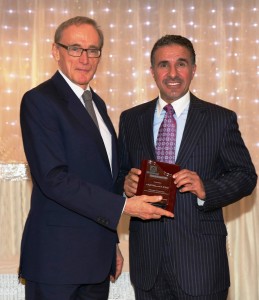 وزير الخارجية الأسترالي يقلد السفير آل صالح وسام الصداقة والتعاون
سيدني 6 شعبان 1434 هـ الموافق 15 يونيو 2013 م واس
قلد وزير الخارجية الأسترالي السناتور بوب كار سفير خادم الحرمين الشريفين لدى أستراليا نبيل بن محمد آل صالح "درع الصداقة والتعاون" التكريمي خلال الحفل الذي أقامته مجلة "الرابطة الأسترالية الدولية " الليلة الماضية في سيدني بمشاركة وحضور عدد من كبار الوزراء والمسؤولين والبرلمانيين الأستراليين.
وأشاد وزير الخارجية الأسترالي السناتور بوب كار بالعلاقات القوية القائمة بين المملكة العربية السعودية وأستراليا وتطورها في المجالات كافة .
ونوه في تصريح لوكالة الأنباء السعودية بدور المملكة القيادي وحرصها على نشر ثقافة الحوار بين أتباع الأديان والحضارات ، وتعزيز الاستقرار والسلام في العالم .
من جهته عبر السفير آل صالح عن شكره وتقديره للمشاعر الودية تجاه المملكة وقيادتها الرشيدة ، ونوه بمتانة وتطور العلاقات بين المملكة وأستراليا على كافة الصعد .
وتطرق إلى مبادرات خادم الحرمين الشريفين حفظه الله ورعاه لنشر ثقافة الحوار على المستوى العربي والعالمي ، مشددًا على ثوابت سياسة المملكة الحكيمة وحرصها الدائم على قضايا السلام والأمن والاستقرار في العالم .
 السفير آل صالح يزور المرضى السعوديين في مستشفيات سيدني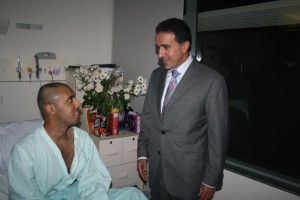 شدد سفير خادم الحرمين الشريفين لدى أستراليا نبيل بن محمد آل صالح على تقديم أرقى الخدمات للمرضى السعوديين المنومين في المستشفيات الأسترالية، ومتابعة حالتهم الصحية بدقة، ورعاية ذويهم ومرافقيهم.
وأكد في حديثه للمسؤولين بالسفارة ومديري مستشفيات سيدني، أثناء زيارته المرضى أن متابعة أحوال المرضى في الخارج هي من صميم وواجبات السفارات، عملا بتوجيهات خادم الحرمين الشريفين، بما يحقق الرعاية الكاملة والحياة الكريمة للمواطن في الخارج، فيما نوه المرضى بأهمية هذه الزيارة، وأثرها الإيجابي والمعنوي عليهم، مبدين أملهم في أن تجد مطالبهم كل العناية والحرص.
واطمأن السفير آل صالح على أحوال المرضى، واطلع على الخدمات الطبية المقدمة لهم، والخطط العلاجية، واستمع إلى جميع احتياجاتهم ومطالب ذويهم، معبرا عن أمنياته لهم بالشفاء العاجل، والعودة إلى ممارسة حياتهم الطبيعية.
His Excellency Saudi Ambassador to Australia Nabil Al Saleh paid visits to a number of Saudi patients who are being treated in hospitals in Sydney.He listened to the patients about their health conditions and needs and also reassured them about the ongoing support they will receive from the embassy.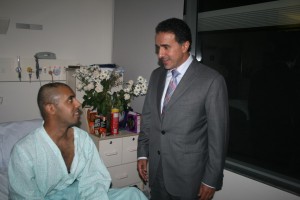 The Ambassador of the Custodian of the Two Holy Mosques in Australia Nabil bin Mohammed Al Saleh welcomed the visit of Dr Abdel Aziz Aluwaisheg, Assistant Secretary General for Negotiations and Strategic Dialogue, of the Gulf Cooperation Council (GCC) to Australia. The visit was made to assess areas of the greatest potential for cooperation between the Gulf Cooperation Council and Australia.
Ambassador Al Saleh stressed the importance of strengthening dialogue between the GCC and Australia on strategic, economic, trade, political and cultural relations.
The Australian Department of Foreign Affairs and Trade DFAT hosted a welcome dinner for Dr Abdel Aziz Aluwaisheg in Canberra, in the presence of Ambassador Al saleh, GCC Ambassadors in Australia and a number of senior DFAT officials.
During the meeting the sides discussed prospects for further development of bilateral relations between Australia and GCC, as well as a number of issues of mutual interest.
The senior DFAT official highlighted the importance of a free trade agreement (FTA) with the (GCC) by saying it would strengthen and enhance the economic and trade relationship between the two sides. The DFAT official also praised the active role of the GCC in the promotion of regional and global stability.