Browsing articles from "December, 2016"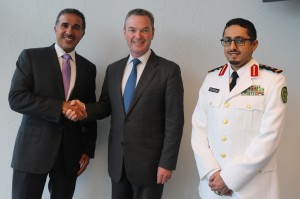 6-2-2016 Spa 
The Saudi Ambassador in Australia and New Zealand Nabil Al Saleh has met the Australian Defence Minister Christopher Payne in the presence of Saudi Military Attache in Australia and New Zealand, Marine Colonel Sami Fahad Al-Mutairi.
During the meeting they discussed discussed bilateral relations between the two nations and ways of developing them in the interests of both sides.
السفير  آل صالح يلتقي وزير الصناعات الدفاعية الاسترالي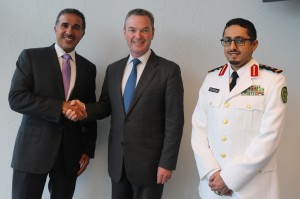 التقى سفير خادم الحرمين الشريفين لدى استراليا ونيوزلندا نبيل آل صالح اليوم في مدينة سيدني الاسترالية بمعالي وزير الصناعات الدفاعية الاسترالي كريستوفر باين وذلك بحضور الملحق العسكري السعودي في استراليا ونيوزلندا العقيد البحري الركن سامي بن فهد المطيري .
وقد جرى خلال اللقاء بحث العلاقات الثنائية بين البلدين وسبل تطويرها بما يخدم الجانبين .
شرح الصور : 
السفير آل صالح والوزير باين والملحق العسكري المطيري